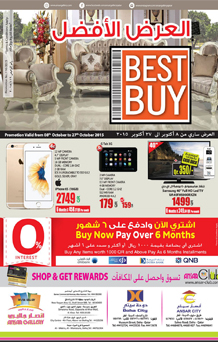 Best Buy Promotion
Promotion valid from October 08th, 2015 - October 27th, 2015
Ansar Gallery brings you a smart way of shopping in Qatar by means of offering wide range of shopping products, product promotions, special discount offers and information on variety of campaigns launched by Ansar Gallery, Qatar and other outlets of Ansar Group of Companies.
Ansar Gallery now introducing Best Buy Promotion in Qatar. includes a wide range of products including Electronics, Mobile & Smart Phones, Home Appliances, Kitchen Appliances, Laptops & IT Accessories, Garments (Ladies, Gents, Kids), Home Line Products, Footwears, Household Items, Comforters, Fitness Equipments, Bags, Perfumes and Home Furnishing Products etc...
* Best Buy Promotion is launched simultaneously on other outlets of Ansar Group of Companies in Qatar. The logo(s) on top / bottom of each page indicating the outlet(s) where that promotion is valid. Terms & Conditions Apply.